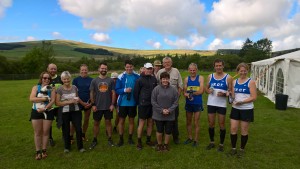 Where's Wally photo?
So, was the Wall of death really that steep??? Some said yes, and one even asked how much off vertical it was!?!? lol.
So, the weather couldn't have been better for the first outing of the wall of death with everyone making it up to the top(mostly on all fours!) in one piece! Luckily the weather couldn't have been better. Had it been raining then it could have been quite different with some runners possibly sliding all the way back down to the bottom! Maybe that could be a different race, The slide to Doom!
The route is basically a figure of eight and visits the quarry where hardly anyone goes to, mainly because there's no visible track to it! Just think lots of heather jumping.
Local lad Andrew led from the start and quickly made use of his local knowledge to pace himself to get his first win since leaving road running. David is still on top form as he wasn't that far behind Andrew, and to think that he's an over 50!!! The THOMPSONs had a family battle, with the younger one winning this outing. Tasha was first lady and was 6th overall. She and Marc Beasley had a good battle. He would have kept in front of her had he not gone flying on the last section of downhill! Hope you recover quickly Beaso. Former dragon slayer Glen was down on his holidays from Staffs, and took the M60 class. Hazel had traveled back from London to run the race, and easily took the F60 class and second lady overall! Helen took the F50 class. Llinos(with her pooch in tow) had struggled through bad traffic all the way from Ystylafera to get down here just on time, but was happy to take the OF win.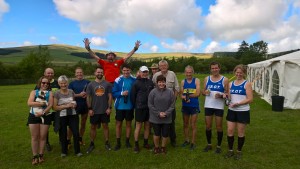 There he is!
Thanks to all the runners who made the effort of coming to race, but as always a huge thank you to the marshals and helpers who without them the race couldn't happen. 😉
2017 RESULTS
Just click on the blue writing to open up the PDF. 😉
Thanks to Richard for taking these photos at the bottom of the wall of death. 😉
Diolch, See you next year. 😉