go here So, what the 'eck's the http___www.bigleaguekickball.com_about_ overnight Soma order Preseli Dib Dab? Well, It's a mountain trial event on the lovely Preselis, Pembrokeshire on go Saturday 1st August 2020. What's a mountain trial? It's like an orienteering event where you get given the marked map at the start line, and you have to navigate your own way to various checkpoints/controls. No waymarkers, no arrows, just you, the map, and the hills. There is also a staggered start, so you can't even follow the runner in front! It ain't a good idea to follow anyway for two reasons. There are three different length courses, and you don't even know if the person in front is running the same course as you!!! The event is entirely off-road, with possibly with some road crossings!
http://waterloomilitaria.com/wp-cron.php?doing_wp_cron=1589408231.2413899898529052734375 Local knowledge will be useful, but not essential…….as long as you can navigate. All competitors will need to adhere to WFRA rules in regards to compulsory kit. Full length waterproof top and bottoms, gloves, container to carry water, compass, hat, whistle, and fell or off-road shoes suitable for rough off-road ground.  In addition to the long and medium course participants, you must also carry an emergency survival bag(not a single use foil blanket!), and it is also advisable to carry a small 1st aid kit in case. All participants must also carry a waterproof pen/pencil for marking their map if they so wish.
http://waterloomilitaria.com/product/french-1913-model-gendarme-helmet/?add-to-cart=3209 http://monanniecakes.com/wp-cron.php?doing_wp_cron=1589401579.9985070228576660156250 Long- 30km. Tough and rough, but scenic and beautiful. Put your big boy(or girl) pants on for this one! Buy Cheap Tramadol Online With Mastercard This race/distance is also a counter in the South Wales fell champs
enter site Tramadol For Dogs Where To Buy Medium – 20km Not as tough, but still tough enough if you're not use to the Preselis and this is your first event of this kind.
see url Tramadol Buy Cheap Short – 12km.  Easiest. Mostly on forest tracks, but some will be on fell ground. Controls are easier to find….bar one or two cheeky ones maybe! Suitable for novices and children will be allowed with an accompanying adult.
Details of where the event centre will be located will be given out a few weeks before the race. You'll need to be self sufficient out on the open fells, but there will be refreshments at the end. There will be no aid/water stations out on course, but there will be first aid station at a location marked on the map. The map will also have my contact number should you need urgent assistance, not for asking where you are! lol
http://waterloomilitaria.com/?attachment_id=5402 The Map– A minute or so before you start you'll be given a bespoke(love that word) A3 waterproof map in OS form detailing http://waterloomilitaria.com/product/american-1840-artillery-officers-sword/ all the control points. You won't need to visit all these control points, even if doing the Long!
When you actually start, depending on what distance you are running you will be given a separate control sheet listing the controls you need to visit.  You need to find these controls on your map, and if you so desire mark these on the map. You don't 'have' to visit the controls in order, but I will be placing them in the order 'I' think makes sense(just to make it easier on you!). You will need a waterproof marker/pen to mark your controls on the map, and you can also mark your preferred route on the map. Many runners will spend a few minutes after starting doing all this on the ground before actually running.
Controls- The controls will be marked by a red and white orienteering kite/flag, and will be near to an obvious feature, eg-stream, track bend, gate, fence, boulder/s, cairn, etc. The kite will also have a printed two letter code attached to it by string. Make sure you're at the right one!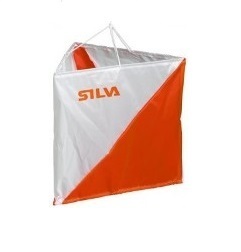 Or like this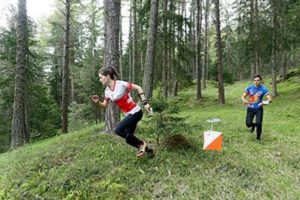 Not like these kites!!!-
To save on costs, the event will be old fashioned, in that we'll be using the good old punches instead of electronic dibbers. These punches will be tied to  kites, and look like these-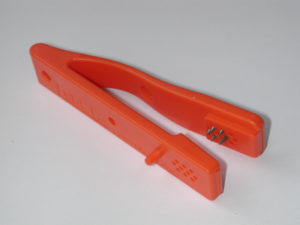 If you notice on the punch, you'll see small metal pins. The position of these pins perforate your paper control sheet in a certain shape. This is how you prove to us at the finish that you have visited that particular control. Each control will have a different punch leaving a different shaped perforation. According to which control your at, make sure to punch the control sheet in the correct box! ie- If you're at control AH, then punch the AH control sheet box. Simple really!!! And whatever you do, do not put your fingers in the punch to see how much it can make you bleed! You will not get any extra points, or cake!
The control sheet- Will look similar to this, but bigger if you're doing the longer course!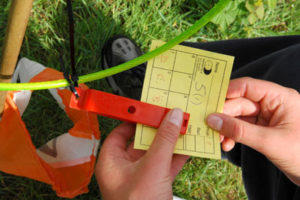 So, are you ready to be Dib-dabbed? Then put the date in diary. Entries will be open June 2020. In the meantime put the Preseli Beast(or other races down on the calendar. 😉 You might also find the South Wales Mountain trial(Sun 26th April) event, and/or the Preseli orienteering(16th May) event  useful.
This will be a limited pre-online entry only, and entries will be open in 2020.