Getting here.
Please allow enough time to travel and park. Maenclochog is a rural village with narrow roads leading to it. Please also allow enough time to register especially the Beast Bach with over 200 runners! Nearest postcode- SA66 7LA.         W3W for the 'event centre' green- chipper.reset.pursuit 😉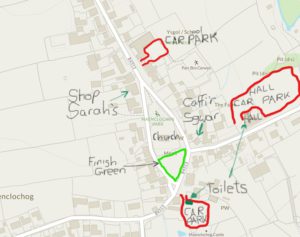 See above for the excellent detailed plan for the village facilities!
Parking. There are three main car parks for you to use.
The community hall car park, with field beyond. You're welcome to camp in this field. Many usually do.
The community car park south east of the green, which also has public toilets.
The junior school car park and playground area.
Where ever you park, please park sensibly. Please do not park on the small road leading behind the church, where the start is. Cars already parked here are probably marshals vehicles, and most will move away as the race gets going.
Facilities – There are toilets at the village hall, but no showers. I will try and get a hosepipe/wash bin sorted to wash those dirty legs though 😉 There are also toilets in the community car park situated 100yds south east of the bottom Green/registration area.
There are many rooms in the village hall for you to change if need be, but please take off all dirty footwear before entering the hall……………….unless there's an emergency of course!
Registration – This depends on the weather. If it's dry, then registration(and more or less everything) will be done on the village green. Otherwise if it's wet and wild, then it'll be in the village hall a short walk away. Registration for The UltraBeasT and Preseli Beast will be open 08.45-09.45hrs.    Beast Bach will be open 10.15-12.15. Please don't come before this as your numbers wont be ready.
When you arrive to register, you will get your race number at the registration table. Please attach your unfolded race number on to your front!!! This will aid the checkpoint and finish line marshals, and you wouldn't want them to record the wrong number would you??? You will also collect your electronic timing wristband here, and please keep this on yourself at all times and try not to lose it!
Please make sure your number is clearly visible from the front at all times! Have I mentioned that already?
Last minute briefing and kit check will happen near to the start line. No kit, no run!
Mandatory kit!!!– PB and UB. Waterproof full body cover with taped seams. Map, compass, gloves, hat/buff, whistle, Bottle or cup to drink from. No cups will be provided at aid stations. BB- Waterproof coat with taped seams, hat/buff, gloves. HOWEVER, the waterproof covering might get reduced to windproof covering if weather is ok. I will announce this on a board nearby to the registration area on the morning.
BUT whatever happens, EVERYONE needs to carry kit! It's for your own safety!!!
Wearing headphones!– I strongly advise you not to wear any headphones that impede your hearing. A-It stops you from hearing marshals instructions; B-other runners may need assistance; C– You could be going the wrong way and others are trying to tell you; D-It distracts your thoughts and concentration; E– You might not hear vehicles!         I could go on!!! 
Mandatory sections- For all runners- From the start to the end of Rosebush quarries, you must follow the markers. For PB and UB runners only- between Llanerch(2nd time coming into the Gwaun), and Cnwc yr hydd.
Ultrabeast info! – Ultrabeast extra info Please read.
Markers out on the course– To aid your way around, there will be various markers in place. Yellow painted plywood arrows, 2ft long metal pins with red flags on top, and 3ft long white bamboo canes with red/white tape tied to the top. Keep the metal pins and bamboo canes to your right. Arrows obviously point in the direction of travel! There will be no markers on the extra UltrabeasT course, until you're back on Foel Feddau heading home!!!
Retiring from the race. If you unfortunately need to retire, or get timed out at the key checkpoint location, then you must inform the nearest marshal. You have a choice of how you get back to the finish area- A, Ask the marshal for a lift if that's possible; B, Arrange your own transport back; C, ask marshal or contact myself so I can try and get someone to pick you up. Whatever happens, you must return to the finish area to tell us that you've retired, and to give back the electronic wristband!
Litter- If you are taking food, gels, or other items out on the route, please do not purposefully drop your litter! Anyone seen or reported for purposefully dropping litter will be disqualified and banned from entering our races and possibly other races in future! Sounds harsh, but it's a proper bug bear of mine seeing litter on the hills.
Getting injured whilst out on the course. If you unfortunatley get injured, try and inform us at the earliest convienience. If you cannot run/walk/move, put on your mandatory kit asap, and ask others to assist if that is possible. If you have a mobile phone, you are welcome to put my mobile number(07985 782 772) in now as a precaution. However it will be some time before we can get assistance to you.
Finishing area. This is the same area as where registration is. However, please have a look at the finishing funnel before you start as we always get a few runners that go in the wrong direction! When you finish, the electronic dibber where you need to hold your wristband against will be just inside the tent on the right! If possible, it might be easier for you to take off your wristband as you get closer, and hand it to one of the marshals near to the dibber to register your time. It is however your responsibilty to make sure that you dib your wristband!!! Please make every effort to leave the wristband in the bucket at the end.
When you finish, you will receive your coaster, and two tickets – one for the cawl/soup, the other for a portion of cake of your choice. Make sure you don't lose these tickets!
Cawl/soup- This will be available to you….IF you have remembered to bring your bowl and spoon! This will be served from the small door to the left of Caffi'r sgwar, across from the Green. Free tea/coffee will be served on the Green, providing you have brought a mug!!! Have I mentioned this previously??? lol
Siop Sarah is kindly donating bananas which will be in boxes just the other side of the finishing tent. If you've not been in there before, you really need to go in and see her little emporium! 😉
Princes Gate Water are kindly donating bottles of water. This will be the last year of having bottled water, so thank you Princess Gate for your support over the years. Please dispose of the plastic bottles responsibly by taking them home to re-cycle. 😉
Prize giving will be done when most prize winners have finished in whichever race. Trophies are only awarded for first place in each category. Make sure you are present when this occurs, as we will not be posting prizes. 😉 There is also a special prize giving ceremony, so please stay around to watch the event of the weekend!!! 😛
Pretty Platters mobile catering will be situated next to the Globe between 4pm and 10pm, and they will have an amazing menu to choose from.
The Globe Inn will have plenty of liquid refreshements on offer to re-hydrate your weary body's!. 😉
Last but certainly not least. The army of volunteers and marshals. Please say thanks to them as you go past. They have travelled to come here, given up their time and effort to make your day special, and without them, the event really wouldn't happen. xx Diolch to the lovely peeps.
Ps- I/we have a tradition of hugging at least three others just before you start. I fully appreciate that not everyone likes or wants a hug, so if you don't want to hug, then please put your arms across your chest in an X fashion. Otherwise, hug away. We will also be holding a 30second silence to remember loved ones who are no longer with us. xx