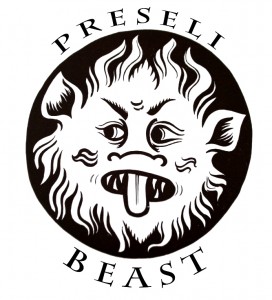 Quick Facts:
Date: Sun 7th May 2023
Start Time:  10 AM
Distance: 24 Miles (36.6 Km)
Ascent:  4,652 ft.. (1418 meters)
Difficulty: Advanced
Cost:  £13.00
Water Stations:  Yes.
Marked- Partial marking.
Bespoke Preseli Beast coaster: Yes.
Below is the profile of the race route, and as you can tell it's going to be hilly! It's not going to be as hilly as a proper big mountain fell race, but it will feel just as tough. Second half is tougher than first!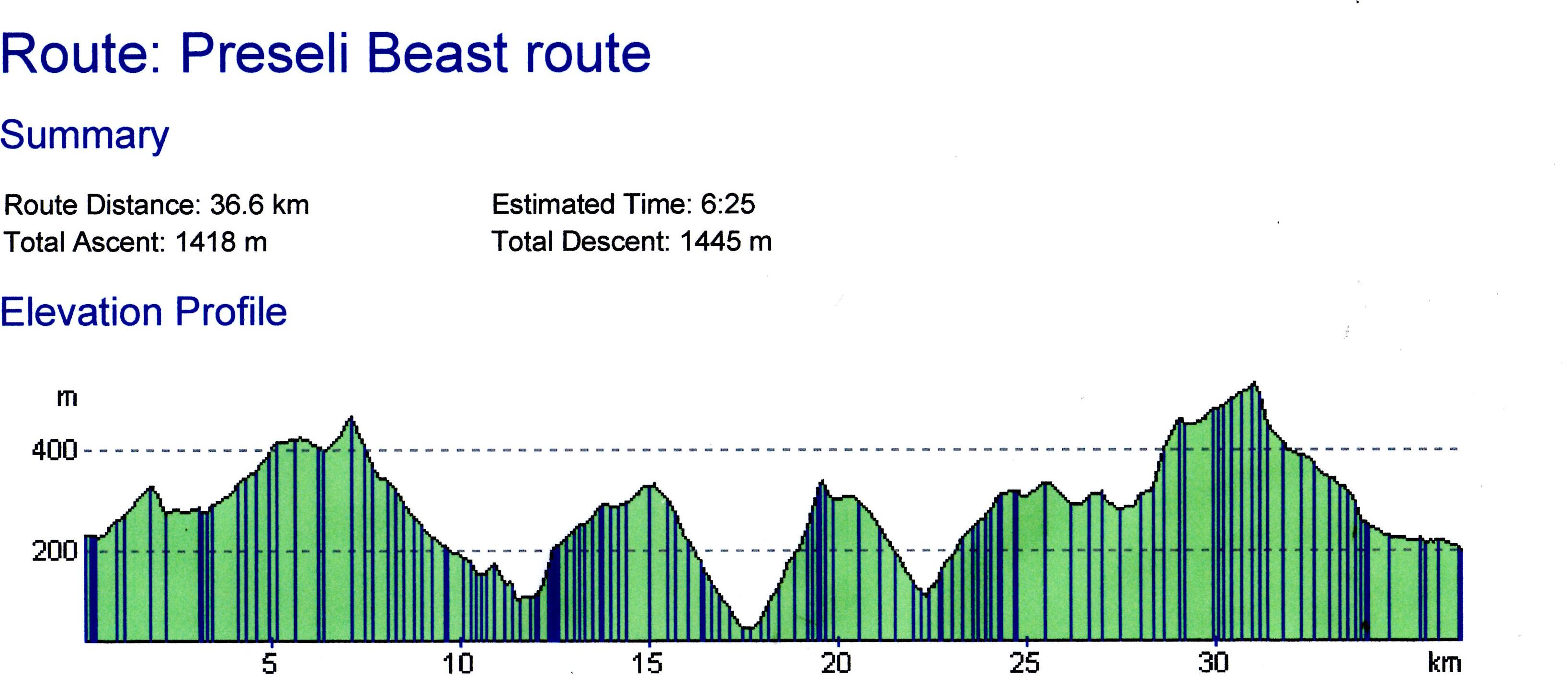 The estimated time on the route card above is basically walking pace, and shouldn't be taken into account. I just didn't know how to change it at the time!!!
You can check out photos and a map of the route here – the description of the route below refers to checkpoints and waterstations as marked on the map. 
24 hilly tough miles on mostly fell/off-road. Starting at 10.00am, it starts from the village centre as the Beast Bach and UltrabeasT does. 400yds of road leads the way to a flatish dirttrack to warm the legs up. This leads to the Beasts lair, a wooded section with twisting boardwalk, which you also do on your return. 🙂 Its then a short 100yds of road which leads you to the open fells.  A short steep hill which brings you to the double stile, and the first of many lovely views. You then drop down through a couple of fields to the village of Rosebush. Along the old quarry track for a while, before heading up into Rosebush quarries(disused!). You then drop back down a little to take on the long winding forest track that takes you up to the edge of the fells again. At this point the Beast Bach, which shares the route to here, goes straight over the hill whereas the main beast turns left and heads across the boggy area known as 'The dead marshes' to a water station(CP1) and road crossing, before heading up to summit Foel Eryr where there are lovely views all around……. if it's a clear day!
From here it's a lovely descent towards the Gwaun valley. You pass a small farm near the bottom and pick up a small rough track which brings you to another small minor road crossing. From here you head down towards Tregynnon cottages, before veering off left downhill into the lovely wooded Gwaun valley. The gwaun valley is deeper than you think! You cross the river via 'The Brige over the river Gwaun', before another water station at the picnic site at Sychpant(CP2). From here the route takes a steep line up through the trees before it levels out. It's a steady climb through the cut down woodland of Penlan common, before reaching the start of Ingli common. Here there are lovely views out over Newport bay. Again, if the weather allows, but there's much better chance of views here as your so close to the coast! The route tracks around Ingli common with some amazing views out over Dinas Head and Newport bay, before dropping down towards Newport itself via a fantastic descent which incorporates a mixture of terrain. There are some lovely narrow twisting bridleways too. Some are quite narrow!
The last bit into Newport is along a narrow tarmac road of approx 300yds which leads to the water station stop in Newport(CP3. 1st cut off- 12.45hrs ). It's surprising how much descent you've just come down, and you soon realise when you start your ascent of Carn Ingli!. From the water station there's a steady climb for 3/400yds on tarmac before the route goes via a very tight squeeze up a beautiful narrow stony path, and then it's the long haul up to the top of Carn Ingli itself(CP4). I have managed to run to nearly the top once or twice, but it's a real toughie especially as this is at roughly the halfway point! The last top bit I've named as the 'Beasts Fangs' as they do have a bit of a bite to them. If you have time and not racing, then enjoy and savor the view as it doesn't get much better than this. It's not called Angel Mountain for nothing. You will want to come back here again.
From the top of Carn Ingli you head across to Ingli Cairn(CP5) and then you head back down into a different part of the Gwaun valley, and up Bluebell woods. You're now heading back towards the Preseli Hills themselves. There are two minor tops to visit before crossing the road near the cattle grid. The latter of the these two tops is called Cnwc-yr-hydd(CP6) and is one of my most favourite tops from which to view the Preselis. Near the road crossing is another water station(CP7-cut off 14.30hrs), and it's where you join back up with those runners who have taken the easy option, (or wimped out as I'd like to think!) of completing the Beast Bach.
A lovely sheep trod/track drops you to the foot of the hillside, before you have to start regaining some height via a diagonal track. From here though it's hands on knees as you're now onto the 'Beasts Back'! If anyone can run this bit then they really have tamed the Beast! Foel Feddau(CP8) is at the top waiting for you to enjoy the views. You've more or less cracked it now as the highest point Foel Cwmcerwyn is within reach now and is a much gentler climb!!! From there it's more or less downhill. There is the 'Beasts Watering Hole' to watch out for though! You have been warned!!
Towards the bottom and just after a minor road crossing, you head back through the 'Beasts Lair' again! A small wooded section which has a lovely twisty track running through it. But be wary as some of those roots might catch out some of the weary-legged runners! From here it's a flatter run firstly along a track then the final sprint along the road back to the finishing line on the village green. once you've picked yourself up, make your way back to race HQ to where a lovely brew, and cake of your choice awaits those who have come to, 'Tame the Beast'.
If you have any questions then please don't hesitate to contact me via email – [email protected],  or  via phone- 01437 532 401/07985 782 772.