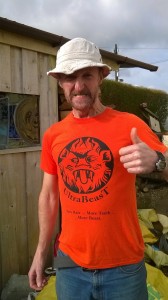 Hi, I'am Caz The Hat, and this is about some of the stuff that I get up to when I'm not organising the Beast.
Running, and being on the hills is what It's mainly about for me. The odd challenge that comes up is just the excuse to get out and be free from it all.
Running for me started about when I was in my early teens when my dad would take me training, (He'd be on the bike!,) and run me ragged! I competed in x-country, but I wasn't hard enough to push myself enough back then, and left running till about 14 yrs ago when I got roped in to run the London marathon. Now I'm older, (42!,) and wiser, (Yeah, right!)  It seems a long time ago now, and things have certainly changed. (For the better).
I guess off-roading started for me back in 2000. Firstly a couple of off-road marathons, then the Pembrokeshire Coastal Path in a little over 4 days. For a couple of years I did Tough Guy, which I loved! Then a friend of mine, Moley, (who I'll get back to later!) got me onto the hills! A couple of spins up onto the Snowdonian mountains, and I was hooked on them.
I tried the Welsh 3000's twice, (beaten and spat out by the weather!), before succeeding on the third occasion. Third time lucky for some. I guess with most of us, we're always looking for more challenging things to do. It's like having a tick list of challenges that gets harder and harder.
In 2009 I wanted to have a go at the Paddy Buckley Round. If you don't know what it is then check out the link http://www.gofar.org.uk/paddybuckleyround.html . I'd never tried anything like this before, but started my PB (Paddy Buckley) training in that autumn. Now although I was really keen to give it a go, I wasn't expecting too much due to my health condition….
In 2003 i was diagnosed with A/F. Atrial Fibrilation for those who don't know. It's a heart condition where the heart has irregular beats! Not good when it's out of rhythm as going up a flight of stairs leaves me gasping!! At first, when it used to go out of rhythm, the only way it would go back was to have to cario-verted! Yes, shocked back in, to you and me. Jump lead job as seen on tv! Not nice the first few times! After about the 7th or 8th time though, it's like going to have your bloods taken, or the check up at the dentists!!
Nowadays it's been pretty good. And it stayed good for my attempt at the PB, which I completed in a time of 22hrs 45 mins! I was over the moon, and was ready to keep going for a second lap at the time!!! I doubt anyone else would have though! Doing this though had really brought on the love for the mountains. And wherever I would go, my dog Smudge would surely follow. She even completed 2/3rds of the PB with me, before bowing out at Ogwen when her paws were starting to get really sore! She'd probably done twice as much as me by that point anyway!
Doing this was the beginning of what I love doing now, and being part of a new family – my fell running family!  I, (and I'm sure not many others can either, apart from the odd uber fit nutter!No names mentioned, NeilT), certainly couldn't have done the PB without certain help from likeminded souls and supporters who enjoy making sure that us 'nutters' get round these challenges by rustling up food at 2'o clock in the morning. Or for those who have a couple of hours kip in the back of the car to be up and ready to go in the middle of the night! I love every bit of this crazy little world we live in, and love supporting others doing the same thing. Going to bed at 9pm to make sure I get a bit of kip, before being woken at 2am by the alarm clock so I can drive up to Noth Wales to support someone on his quest for sanity!! It's surprising how quiet it is on the roads at that time of…..day! Or should that be night? But I've had some sleep, so it should be day! Anyway!
What I didn't mention earlier is what got me into doing this sort of challenge in the first place? Well it was that Moley's fault! How, you may ask? Well a friend of his (and mine now too) was going to attempt the Meirionydd round in 2009, and Moley had suggested that I go along to support. "The what round" I said? He explained that a certain Rob Woodall, who I'd never met, and wouldn't till the day he was going to try and run the 70 plus miles, over 47 peaks, and run up a total of 24,000ft of ascent!! He had to be kidding, I thought. He must be uber-fit and I'd never keep up even if it was only for the 10 odd miles that I'd be with him for!
Well, that was it. My first taster of the 'Big Ones'. Rob tried his best that day, but it was hot, and it he didn't make it. Although some of these challenges say that you don't have to complete these rounds in 24hrs, most try and do! And Rob tried his best to, on two occasions! Anyone could take days to complete them otherwise, and it wouldn't be such a challenge then! Well, after doing the PB, it started to seep into my thoughts! Could 'I' do it? Could I be the second person to complete this mighty round? Now when things start seeping in, it's a hard job to stop the flow. A bit like a river running it's course? Once it starts, then it's very hard to stop it. I tried  to stop the urge (yeah, right), but it all came out at Wynn and Steve's annual Survivors do! "I'm thinking of doing the Meirionydd next year" I said! Too late! Wynn had got her diary out and was starting to look at available slots in her busy schedule of cooking and baking for us nutters on the hills! Did I say that "I LOVE FOOD". Well, that's another story!
I used the Bob Graham round in April 2012 as a good tester and training for the Meirionydd(Meiri) in May later the same year. ChrisBH had done the BG with me, and had signed up to do the first leg of the Meiri which was going to be over the Cader section…..at night! The Big day came round pretty quick and I was at the starting line in a flash. Team Wynn were there to see me off, and also the man himself, Mr Yiannis Tridimas, the creater, and only completer (till then?)of this wonderful route. 11:29pm, and I was standing on the stile ready for the off. The night flew past, and so did we at times? Quite literaly! The wind nearly blew us over on several occasions. Night eventually gave way to light, and with it, the heat of the burning sun! It must have been one of the hottest days of 2012(not that we had many hot days at all!!), and if it wasn't for 'the hat', then I'd have been a gonner. In fact, I was a gonner! Till that day, I'd never ever felt that weak and feeble. It broke me. My head was a mess with the wierdest of thoughts. "Did I want this or not?" If it hadn't had been for so many of 'The Family' coming out to support me, then I'd probably still be there moaning and groaning, and crawling my way through the harshest of terrain.
17hrs in, and there was an eerie silence all around whilst I was sitting in the nice comfy chair that someone had put up for me to sit in to scoff some food. Did they expect me to say that I'm not getting up! In fact, I was too frightened to. The next hour after that was hell. No energy in the legs made the climb arduous, but I knew that if I made it to the top in decent time then there was hope. The joy of reaching that top (albeit behind schedule) was a relief. Everyone was willing me on at this point. All I was willing to do though was to curl up on the floor and go to sleep!
At the last road crossing I was being joined by Mr Tridimas himself, and Moley for the last few tops. "But I was supposed to stop to have some more food" at that point, but I wasn't aware at how close I was to the schedule, so there was no time to waste. Running(hobbling like a drunkard more like!) those last few tops brought a smile to my face. Sam had been telling me for hours that 'I was going to do it', but until those last few tops, I wasn't quite sure.
A small crowd had gathered to see me run-in to reach the stile where it all began 23hrs 31 minutes previously. And it was quite emotional too, but I had done it!!!!! Yeah! The glory has to go to my friends and family who'd supported me though. Without them, I wouldn't have written this long blog!
Adios amigos.
Caz the hat( Now you know why)