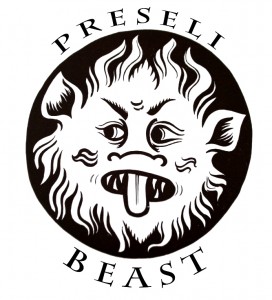 So, you want to tame the Beast! 
The Beast awaits you!   There are two ways you can enter. You can print out the paper entry form found at the bottom of this page and post it pack to me with a cheque, or you can enter online from the link also found at the bottom.
However, please read through the safety guidelines before entering!
Note —– Entries aren't open for the 2020 race yet, but hopefully by end of February/middle of March.

 
There is a choice of three races, so hopefully there is a race to suite everyone's pain threshold. Please be aware that there will be a maximum number of entrants – Beast Bach – 200 ; Preseli Beast- 100 ; Ultrabeast – 100. You have been warned!
The 32 miles

UltraBeasT

The 24 mile

Preseli Beast

The 11 mile

Beast Bach
Are you ready for the Beast! Grrrrrr!
There are payment details on the printed form, you can pay by cheque or BACS direct transfer – please ensure you put your name as the payment reference if you transfer money so we know who it's come from!
Online form you can pay via Paypal.
If you're a WFRA member then you'll receive a £3 cash back on race day 'if' you bring proof of membership
Please read the safety guidelines, equipment needed, and new cut-off times below to help you decide which race to do and ensure you can compete on the day.
---
SAFETY GUIDELINES & EQUIPMENT NEEDED
The form includes a declaration indicating that you understand the Welsh Fell Runners Association (WFRA) Safety Code, understand the risks associated with fell running and are entering at your own risk…..alongside other things.
Please visit the WFRA website http://www.wfra.me.uk/  for the complete safety code and rules. Under WFRA safety requirements the kit mentioned in sec5 is mandatory for all Category A' Long and Medium races. Please see the safety code below:
IMPORTANT NOTICE – RUNNERS AND SAFETY. The general philosophy in Fell / Mountain racing is that the competitor should take primary responsibility for their own safety on the Fells / Mountains.  Please note the following:
The Beast Bach, Preseli Beast, and UltrabeasT races are all held under WFRA rules and Insurance.
Please read the following before entering.
By entering this race, all competitors agree to abide by the race entry conditions below, which they will also be asked to sign on race day. The competitor also agrees to abide by any race day instructions and conditions, or other instructions given by the organiser or appointed marshals, including the instruction to retire or withdraw from the race for any reason. Failure to do so may result in disqualification and/or disciplinary procedures at the organisers request. Failure to follow retirement instructions (unless because of incapacitation) will result in a mandatory ban.

Competitors accept that all fell racing is hazardous, as is the terrain and weather conditions, and that accidents can and do happen. On rare occasions there have even been fatalities. All competitors enter at their own risk and are wholly responsible for managing their own safety from the time they leave the start of a course until the time they return either as finishers or retirees.

Competitors must not enter the race unless they have suitable and sufficient experience of racing or training and navigating successfully over the same or similar terrain and travelling long distance over the fells in all weather, and as a result can confirm they have sufficient experience to find their way around the course and to manage their safety in the conditions prevailing in expectation of no support, which they must not regard as a safety net. Road running experience is not sufficient to enter this race.

Competitors must study the risks posed by conditions, including the symptoms of hypothermia , hypoglycaemia, and heatstroke in both themselves and others some of which are these: Hypothermia: not responding to conversation; uncoordinated movement and speech; inability to think clearly; wanting to carry on in adverse conditions; skin cold where normally warm (eg armpits). Immediate action: wrap in warm clothing. Hypoglycaemia: confusion; ill coordinated movement and speech; weakness; hunger. Immediate action: glucose drinks or sweets. Heat exhaustion: fatigue; muscle cramps; dizziness; vomiting; fainting; cold clammy or hot/dry skin. Immediate action: rest in cool; feet elevation; drink salty water.

Competitors for the Preseli Beast and UltrabeasT must carry the following equipment – Waterproof complete body cover with taped seams and integrated attached hood; Hat and gloves; Map of the route; Whistle; Emergency food.  For the Beast Bach, a lightweight windproof might be acceptable instead of full body waterproof dependent on weather on the day

.

Accepting that such equipment is necessary to avoid disqualification, but also accepting it is not warranted by the organiser as sufficient. It is for the competitor alone to determine what extra equipment, and sustenance are needed to safely negotiate the course in the conditions prevailing allowing for what may be a very long wait for rescue. Indeed it is for the competitor alone to decide, from experience, whether they are competent to negotiate the course safely at all in the conditions prevailing and forecast, and if they have any doubts on that they must withdraw before starting the race. They can always race elsewhere on a better day.

Competitors should bring to the race the maximum equipment they may need for forecasted conditions. The minimum specified by the organiser may be increased on the day, and where minimum kit is specified, kit checks will be in place, which can result in disqualification.

The competitor understands that the sole duty offered by the organiser to them, is to determine as far as is reasonably practicable that all who start the race , then either finish it as completers or are otherwise accounted for as retirements, and in the event of competitors failing to return within a reasonable time of anticipated race finish , then the sole duty accepted by the organiser is to alert search organisations that they are missing, and to assist that organisation with information to hand. All other marshals are there in respect of the competition not safety and must not be considered a safety net. All of the records they collect are fallible and may not always be available. Competitors should not enter races if they need or expect more support.

The competitor must study the race description , and note that the PB and UB routes contain small sections of scrambling, steep and slippy descents, and all of it can be even more hazardous if temperatures have been or are freezing, and if they have any doubts, train on the route to ensure they are competent to race there. The competitor must accept that these are only a selection of the hazards and not necessarily the most dangerous, because the entirety of fell courses are hazardous, and the competitor should not enter without sufficient experience of the same or similar terrain.

Competitors confirm that they accept that the Organiser accepts no liability for any loss or damage of any nature to the competitor or his property except to the minimum extent of the law and only in respect of personal injury or death resulting directly from organiser negligence.
By entering, I confirm that I understand that this race is held in accordance with FRA rules and that I have studied the Rules and Safety Requirements of FRA and the instructions and conditions above and agree to be bound by them.
DO NOT ENTER UNLESS YOU AGREE TO BE BOUND BY THESE CONDITIONS!
Signs of Hypothermia: not responding to conversation; unco-ordinated movement and speech; inability to think clearly; wanting to carry on in adverse conditions; skin cold where normally warm, such as under armpit.  Immediate action: wrap in warm clothing.
Signs of Hypoglycaemia: confusion, ill co-ordinated movement and speech; weakness, hunger.  Immediate action: drink glucose solution or suck sweets.
Know what the organiser's 'drop-out' procedures are and comply with them. As a minimum, if you retire you MUST notify the officials at the finish (and the nearest check-point marshal, if appropriate) before you leave the area.
If you see someone in trouble: HELP, even if it costs you the race.
Be aware that, by the nature of fell racing, first aid may not be readily available.
---
CUT -OFF TIMES
Cut-off times are being introduced to aid the organisation of the race and the general well being of you, the runners, and the legion of dedicated volunteers who enable the races to happen.
Please consider which race is appropriate for you based on your experience and ability. If you do not reach the designated cut-off points within the time specified you will finish the race there and make your way back to the start with a marshal. Your results will not be recorded past the cut-off point.
UltrabeasT. – Race start-10.00hrs.
Cut Off Point:  CP8/Foel Feddau(18.7miles)-    5hrs (15.00hrs)
(If you reach this point after the cut-off time, you'll be re-directed onto the homeward route to finish as per Preseli Beast route). You'll then be counted in to the Preseli Beast results.
Cut off point CP9/Foel Drygarn(36.5km)-   6hrs (16.00hrs)
You'll head down with the marshal for a drive back to HQ.
Cut off at finish approx- 7.5hrs/ 17.30hrs.
---
Preseli Beast. – Race start-10.00hrs
Cut Off Point:  CP3/Newport(11.6miles)         – 2hrs 45mins (12.45hrs)
Cut Off Point: CP7/Road crossing(17.3miles) – 4hrs 30mins;  (14.30hrs)
Finish approx- 6hrs, at an average of 4mph.
Please Note- If you don't think you can make the times, then please enter the Beast Bach.
---
Beast Bach.-  Start- 12.30hrs.    Cut off point: CP6/Road crossing(5miles)- 2hrs(14.30)
---
Click here for paper entry form. 2020 paper entry form
Click here for online entry- Online Entry Form
Please remember to add emergency contact name and phone number at checkout!
Should you be entering from oversees, then the IBAN number is:
GB85NWBK54101811052376 IBAN BIC – NWBKGB2L
Huge Thanks to Kevin from Agent care who upgraded this website to make it easier all round for everyone.
Thanks, Diolch.    Caz the hat.