This years race will be on Tuesday July 18th 2023 at 7pm. Registration from 5.45pm will be opposite Newport, Pembs, Long Street Car park. Whilst the 19.00hrs start will be a short distance up the road at the top of Market street, Newport Pembs. The race is only 5.6kms/3.4miles, but it does have an impressive 315metres/1,033ft of uphill, making this a AS class fell race. ie; A- Over 50metres of uphill per km, S- Short-under 6mile.
The route will be marked, and marshals will hopefully be on the highest point that runners will be visiting.
Entry will be on the day, at £3 a person. Please bring correct coinage! As is tradition to my races, there will be tea/coffee……….and cake at the end! But bing your own mug!
---
Carn Ingli KIller past results. Click on the links below.
June 2017 result.
It was a great evening for this short but tough 3.5mile 'A' class fell race. 15 hardy competitors took up the challenge and 7 of those were new to the route! Did they know what they were letting themselves in for??? There were some good battles between runners, and one of those was for top honors as Alan LATTER just took the win by only 3 seconds to an ever closing M50 runner David WARREN! David seems to be getting faster the older he gets! First lady overall was Domi KIMBER with F60 Hazel DAVIES just under 2mins behind.
Full results here– Carn Ingli Killer June 2017
A huge Thanks to the marshals, especially Andrew CLEMENT, who not only went right up on top, but also baked the biggest slab of cake I've ever seen! There wasn't a huge amount left even though there were only 15 runners!  Thanks to Carolyn (cakes by Carolyn) for baking some lush cupcakes, to Rachel Phillips for helping out at registration and on the finish line times, and to the chairman of County Councillors, Cllr Paul HARRIES for attending and officially starting the race.
Dates for the diary. Just click on the blue writing underneath for further details.
                      Following this is the Ras y Cerrig Las race nr Mynachlog ddu. on Sunday 7th August at 12pm.
——————————————————————————————————————–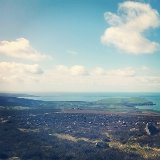 Here's the results for the 2016 Carn Ingli killer April results
Cheers, Caz